Conscious Chocolates are delicious, hand –made, vegan chocolate bars. The range is created from premium quality, organic, raw and primarily wild ingredients.
Conscious Chocolates, the original raw vegan chocolate, have been enjoyed throughout the world since 2004. Their chocolate combines premium quality and health without compromising taste. All the delicious vegan chocolate bars are entirely hand-made and hand-wrapped.
From humble beginnings Conscious Chocolates have expanded rapidly, always keeping at their core an integrity for making uncompromisingly healthy, sumptuous vegan chocolate.
The whole of the Conscious Chocolate range is vegan, vegetarian and organically certified.


free from gluten, free from dairy, free from soya, free from refined sugars, low gi and gl index
suitable for diabetics, suitable for vegans, suitable for raw foodists, suitable for vegetarians, suitable for coeliacs and introducing a range that are high in fibre and free from fructose
made with biodegradable and compostable packaging, made from ethically sourced ingredients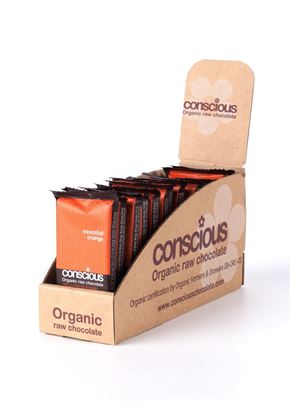 Conscious Chocolates are delicious, hand –made, vegan chocolate bars. The range is created from premium quality, organic, raw and primarily wild ingredients. Conscious Chocolates, the original raw vegan chocolate, have been enjoyed throughout the world since 2004. Their chocolate combines premium quality and health without compromising taste. All the delicious vegan chocolate bars are entirely hand-made and hand-wrapped. From humble beginnings Conscious Chocolates have expanded rapidly, always keeping at their core an integrity for making uncompromisingly healthy, sumptuous vegan chocolate. The whole of the Conscious Chocolate range is vegan, vegetarian and organically certified. free from gluten, free from dairy, free from soya, free from refined sugars, low gi and gl index suitable for diabetics, suitable for vegans, suitable for raw foodists, suitable for vegetarians, suitable for coeliacs and introducing a range that are high in fibre and free from fructose made with biodegradable and compostable packaging, made from ethically sourced ingredients